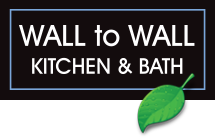 Fully Custom
Your style and kitchen are unique, your kitchen cabinets should be too.
Seeing is Believing
We will create a colored 3D rendering in the design phase so you know exactly what your kitchen will look like, making sure you're confident in your selections before moving forward.
Options
We have so many different options for you to choose: from solid wood to white melamine, to everything in between.
Quality
We handcraft our kitchen cabinets inhouse, making sure you get the finest quality.
Local
Our kitchen cabinets are handcrafted right here in Kelowna.
More than Cabinets
We offer finish carpentry, and can craft anything from interior doors to crown moulding. We also install all interior finishes.
LET'S TALK ALL THINGS KITCHEN TOGETHER! BOOK YOUR FREE CONSULTATION
Do you want to get started on your kitchen? If you're looking for custom kitchen cabinets, a full re-design, etc. start the process now. Fill out the form below and we'll contact you to answer any questions you may have.
*please note, there is absolutely no obligation from you. Let's just talk all things kitchen together.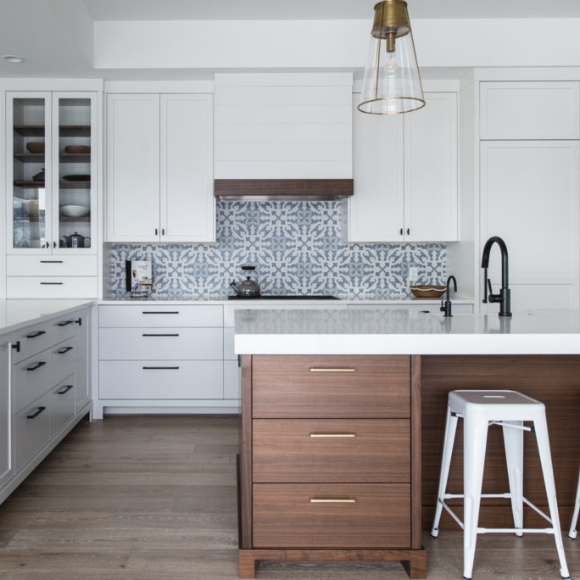 CUSTOM KITCHEN CABINETS
As a custom cabinet shop, we ensure your custom kitchen cabinets will be designed to your specific needs. Your project will be the perfect blend of style and function. Your cabinets can be constructed from any of the large selection of materials that we provide. Some of the choices available are white melamine, hard rock maple melamine, wood veneers or solid wood. The edging on your cases will be chosen to match the color of the door's finish, creating a seamless appearance.
CUSTOM KITCHEN
CABINET SPECIFICATIONS
All cases are made using ¾" industrial strength sheet goods providing superior strength.

Cases are fastened together using hardwood dowels, glue and conformant screws. This guarantees a lifelong product.

½" cabinet backs are machined for a rabbet then integrated into a dado cut into the gable. This provides exceptional holding power for the cabinet installation process.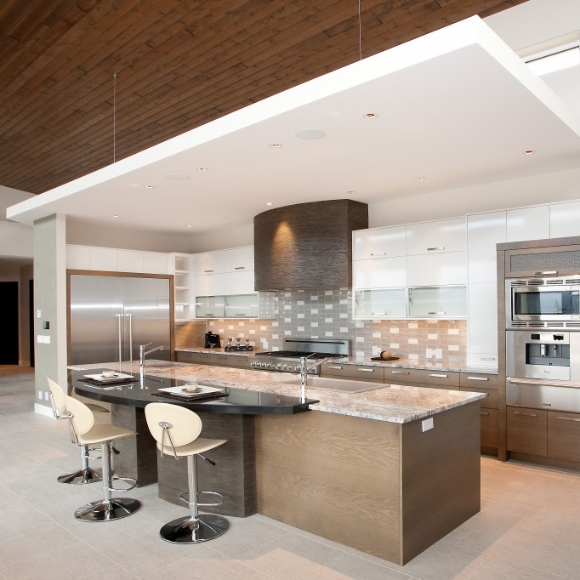 SEEING IS BELIEVING: 3D RENDERINGS FOR YOUR KITCHEN.
Bringing your custom kitchen plans to life with high resolution color renderings takes the unknown element out of design. Visualize your space with all your finishes at the design stage. We want you to be 100% satisfied with everything we install in your space. These renderings will help you understand and be confident with all of your choices and know exactly what your custom kitchen will look like.
OUR MISSION
Our mission is to help our customers choose the perfect product, designed and manufactured to their individual needs and styles. We do this using only the highest quality raw materials, excellent service, and skilled craftsmanship. The possibilities are endless.

Wall to Wall is a family-owned and operated business dedicated to preserving the art of cabinetry.
We are the premier custom cabinet makers for modern and period style kitchens and vanities. We handcraft custom cabinetry every day, delivering the finest quality in Shaker, Arts and Craft, Country, Victorian, and Modern styles.
We have built our business on building cost-effective products with exceptional quality. Not only does Wall to Wall build kitchens, we also offer services for finish carpentry. Interior doors, crown moulding, and all interior finishes can be installed by Wall to Wall.
Allow us to create functional designs customized to your needs.